It's here the very first patch notes for Episode 29, the Spring Update for Cabal Korea! The update will feature a brand new in-game system named Heil's Research Support and the most awaiting renewal for Inventory and Warehouse! Let's dive in!
1. Fixed bug that cannot buy items in then different pages in NPC Yul
2. Fixed bug that "Orb of Destruction" and "Orb of Ruin" cannot be registered in Auction House
---
1. Add "Heil's Research Support" system
Participation & Progress

Condition for Participating

Account with at least one character at 180 (or above) and that character must be registered as representative for Guild
All characters in the account can participate
If you main character leaves the guild during the Research Support season is in progress, you need to join another guild and set that character as representative in order to proceed with Research Support

Progress

There will be three (03) seasons

Heil's Research: Investigation
Heil's Research Observation
Heil's Research: Hypothesis Setup

Duration of each season is temporary set for 7 days, when this system goes live, the season duration might be revised

Process of Progressing

Main Process

Step 1: Register materials
Step 2: Increase the progress until the max
Step 3: Receive Circuit as reward
Step 4: Complete the Circuit Board when completed all 10 Circuits
Step 5: Receive Decoded Circuit Board

At the end of season, get Clue Reward via lottery

Related Menu and UI

Cabal Menu > Quests & Achievements > Heil's Research Support
Research Support UI: Heil's Research Support
Heil's Research Support UI

Electronic Circuit Decoding

UI consists of Circuits, Circuit Lines and Memory Cubes (as rewards)
Different colours will be represented for different grade of Circuit
If the Circuit Board got decoded completely, the button to move to the next page will be activated

Material Register

Total 10 Materials must be registered
Amount of materials needed and have will be displayed
Able to "change" the material for registration by using the "refresh" button

My Information

Show the current season information
Show the current progress

Details

Material Register

If the amount of material your character owns is more than the required amount, you can register the material
When the material is registered, the Gauge at the top of the Heil's Research Support UI will be filled up

Depends on the type of the material, the gauge will be filled deferentially

Multiplier Bonus

When registering the material, a random Multiplier Bonus is applied

When the Multiplier Bonus is activated, the gauge will be filled up accordingly

Multiplier:

Changing the Material

By clicking on the Refresh button, the material will be changed
The refresh can be done up to 5 times, 5 Force Gems are needed per reset
When a material is changed, the previous material might show up again

Material, Registered Quantity, Number of Times that you can refresh are reset daily at 5:00 AM

Circuit Reward (Memory Cube)

Basic Circuit Structure

9 Normal Circuits & 1 High Circuit (at Circuit #10)
Circuit Layout Randomisation

High Circuit: At the start of 2nd round or after, there is a chance that Normal Circuit could be upgraded into High Circuit (for the Circuit #1 ~ #9)
Highest Circuit: At the start of 2nd round or after, there is a chance that the Circuit #10 could be upgraded into Highest Circuit
The more rounds were done, the higher chance that High / Highest could be upgraded and the chance will be reset once the upgrade happens

Chance of getting upgrade at round 4 is higher than round 2
Once the upgrade happens at round 8, then the chance for upgrade at round 9 is reset back to normal chance

Only one (1) upgrade could be done per round

Memory Cube Reward

When all of materials are registered for each circuit, the memory cube is opened and the reward will be given
Different reward are given based on Memory Cube grade (Normal / High / Highest)
Reward will be delivered via Event Inventory and has duration of 7 days for receiving
When the full Circuit Board with 10 Memory Cubes are opened, the "Decoded Circuit Board" will be gained

Clues Reward

System will give rewards at the end of the season based on random for players who completed at least one Research Support
Selection Method

Once the player completed the research support tasks and obtained the Decoded Circuit Board
System will select randomly for 5 grades of rewards.
A character wins a grade will be excluded from the next grade.

Clue Reward will also be delivered via Event Inventory with duration for receiving with 7 days
Number of Winners and Details of Rewards

Reward might be changed later when the feature goes live in real server
Collection

A collection related with Heil's Research Support items
Related items

From Memory Cube (Normal / High / Highest)

Shining Liquid
Charged Stone
Black Matter

From Memory Cube (High / Highest)

Old Machine Part
Broken Electronic Circuit
Eternal Power Device
---
1. Changes related to Revenge Force and Defense Score
Expand the Revenge Force Buff

Existing: Up to 3 times
New: Up to 10 times

Special Buff will be applied on Guardians / Structures of the Losing Nation

Target:

Legacy Guardian
Sage's Ensign
War Gate

Stats:

HP
Defense
Resist Critical DMG
Resist Skill Amp.

Exclusion: Gold Keeper in Memoria Chrysos

Adjust the Buff for Character of Losing Nation

Add Stats: Add Damage
Reduce Stats: Defense
Remove Stats:

Resist Crit. Damage
Resist Skill Amp.
Defense Score obtained upon the resurrection

Once resurrected the percentage of Defense Score obtained after the "Protect" mode is reduced
The percentage is increased gradually every second, after 10 seconds, the normal Defense Score will be obtained
Will not applied for resurrected using Odd Circle or Force Gem
During the "Protect" mode, it's not able to obtain the Defense Score
---
1. Inventory Improvement (will be improved continuously)
Change the item size to 1×1

Change all item size to 1×1
All related system that related to item-size are unified to 1×1

Inventory, Warehouse, Store…
Increased "Inventory" to 8 pages (aka tabs)

Increase the Inventory from 4 pages to 8 pages
Number of accessible pages is depended on the premium / blessing beads
Warehouse Improvement

Change the number of slots per page in the Warehouse and Costume Warehouse from 8×16 (128 slots) to 8×8 (64 slots)
Instead of decreasing the number of slots per page, the total number of pages is now doubled, so the total number of slots is the same.

Add the feature for moving between Warehouse pages using the buttons instead of tabs

Number of accessible pages is depended on the premium / blessing beads
● UI that changes due to item image change and inventory expansion
| | |
| --- | --- |
| Equipment | Inventory |
| | |
| Pet | NPC Shop |
| | |
| Costume | Costume Warehouse |
| | |
| Link Weapon | Warehouse |
| | |
| Trade | Automatic Sorting |
| | |
2. When Dark Mage casts the skill, the skill with be shown regardless of the effect option level in Game Option
3. Added grade-related description in the item tooltip
| | |
| --- | --- |
| Unique item | Effector item |
| | |
| Showing the range of the unique items' options, applicable items: Lycanus Weapon, Drei-Frame Armour, Prideus' Bracelet, Siena's Bracelet, Drosnin's Earring, Orphidia's Amulet, Raksha's Brooch | Showing the grade of the options of Effector as x/7 in the option |
4. Add "Select All" checkbox in the Personal Shop for auto-registering all items for sale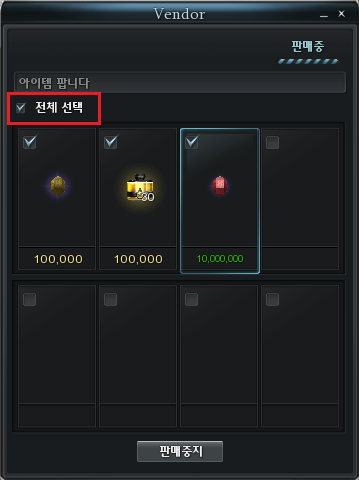 ---
1. Changed the maximum number of some items to be stacked to 999
Applicable:

Effector Core (Piece)
Elemental Crystal
Crystal of Ruin / Destruction
Orb of Ruin / Destruction
Devil's Token
Orb of Earth / Wind / Fire / Ice
Earth / Wind / Fire / Ice Stone
Crystal of Earth / Wind / Fire / Ice
Essence of Chaos (All Types)
Dragon Essence Darkness / Light
Master's Essence (All Grades)
Fragment of Divine / Chaos
Unrefined Divine Essence
Divine Purification Scroll
2. Add the Agris' Armour Box for Dark Mage
NPC Agris is now selling Armour Box for Dark Mage
Add the category in Auction House
3. Add the Ignore Resist Crit. Damage and Ignore Resist Skill Amp. as the register-able for Collection of Bike Ultimate grade