The second patch for Episode 27, with lots of additions and changes for:
Achievement & Title System Renewal
Introduction of Field Boss System
New Essence Rune (Resist Critical Rate)
Some UI enhancements
Sorry for doing the translation too late, last week for me was a bit hectic~
Cheers~
Wormy.
■ Fixes
1. Fixed bug that the "Penetration" icon is not showing in the tooltip of items in certain situations.
Target Items:

Tempus' Ring
Siena's Bracelet
Dr. Mazel's Ring
■ Changes
1. Improvement for Set Effect UI
Change the place of showing Set Effect information

Old:

Set Effect information can be found by moving mouse over the Set Effect icon at the top of Inventory UI

Change:

Set Effect information will be displayed in item tooltip
Delete the Set Effect icon in Inventory UI

Change the way of showing Set Effect information

Old:

Equipped items
Applied Set Effect

New:

Items needed to equip
Applied Set Effect

Add description regarding Set Effect information
Set Effect is not able to view from "View Equipment" feature (viewing the equipment of other characters)
2. Achievement System renewal
a. Changes of Achievement UI
"Summary" Tab

Display the total amount of Achievement Point and the Ranking for achievements that you achieved
Achievement Ranking is reset on the update
Remove the "Best" that shows the characters in Buddy / Guild
"Achievement" tab

Showing the achievements in details
Able to check the options that title give by moving mouse over the titles
"Title" tab

Change of Title categorisation

Display Title: Can register all available titles, display only
Guild Title: Can register all available guild-related titles. When a title is registered here, the stats will be applied for character
Bringer/Guardian Title: Can register only if your character is selected as Bringer/Guardian. When a title is registered here, the stats will be applied for character.
Event Title: Can register all available titles that your character earned from events. When a title registered here, the stats will be applied for character

Summary of Stats:

Stats summary from Achievements and equipped Titles
b. Merge of some Achievements
Some dungeon related achievements are merged together as one
Mission War related achievements are merged regardless of nation

Count is also merged and count for both nation as one
c. Revised achievement difficulty and reward
Dungeon clear related achievements

Depends on the difficulty of dungeons, the count for clear is adjusted
Adjust the middle break points where players can get the reward, based on the new maximum count of dungeon clear

Based on the difficulty of the dungeon, the achievement point will be rewarded differently
Change the title reward based on the maximum count of dungeon clear

The previous achievement status (count) will be maintained, but the reward will be adjusted, based on the new calculation
Detailed changes of Dungeon clear achievements
Mission War related achievements

Change the number and reward for some Mission War related achievements
The previous achievement status (count) will be maintained, but the reward will be adjusted, based on the new calculation
Hunting related achievements

Change the number and reward for some Boss on fields hunting related achievements
The previous achievement status (count) will be maintained, but the reward will be adjusted, based on the new calculation
Change the method of applying title stats

Stats of titles will be accumulated

Existing: Character will get the benefits from only the titles which are registered (equipped)
New: Stats of all titles which are acquired will be accumulated and applied regardless of equipping status

Exception: These titles stats are not accumulated and need to equip manually from "Title" tab

Guild Titles
Bringer / Guardian Titles
Event Titles

Change the stats of some title for fitting with the new concept of stats accumulation

Target:

Sum of level in account titles
Honour titles
Mission War titles
Bringer / Guardian titles

Add 3 new Dungeon clear achievements

Clear "Tower of the Dead B3F (Part 2)
Clear "Holia Windhill"
Clear "Labyrinth"
3. Adjustment for Divine Upgrade UI
For Divine Upgrade, the Upgrade Point is not applicable; therefore, the bonus stats will also not be displayed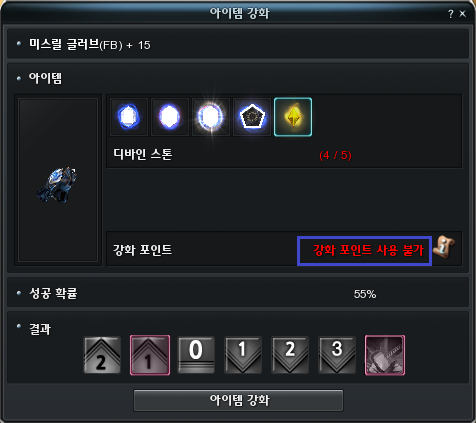 4. Improved Dungeon Completion UI
Change the Dungeon Completion window position and add effect

Change the location of Dungeon Completion notification to top-centre of the screen
Add the effect to highlight the "OK" button in the UI

Add the feature that allow character to stay inside dungeon after cleared the dungeon

A button labelled "Stay" is added next to "OK" button
Once clicked, your character is allowed to stay in the dungeon for extra 60 seconds

A counter will be counted for the staying time
5. Other Changes
Change the location of leaving the dungeon for dungeons using "Snow Storm Altar" in "Bloody Ice" as the entrance

Target Dungeons:

Catacombs Frost: Easy / Normal / Hard / Awakened / Premium / Elite Premium
Frozen Canyon

Change inventory image of Chaos Talisman of Ruin & Destruction and Special Voucher items
Add the description in tooltip that Chaos Converter can use for Bracelets also
■ Additions
1. Adjust the existing Field Bosses
Change the "Arcane Golem" at Arcane Trace into Field Boss
Remove "Meer King" and "Panda King" from Senillenia
Change the location of MA-06 Quadra in Pontus Ferrum
Stats of existing Field Bosses will be changed later
2. New Field Boss System
a. Spawn Time
Field Bosses will be spawn at a specific time
Before spawning, there will be a Timer Countdown display on the screen along with the special broadcast all channels
b. Field Boss UI
List of all Maps with corresponding Field Bosses
When moving the mouse over the Field Boss, the location and main drop information can be found
c. Field Bosses
d. Field Boss Battle
Field Boss Battle

Total: 20 minutes

5 minutes before spawning (countdown time)
15 minutes of battle time

Special icon will be displayed next to the channel during the Field Boss Battle (not in the countdown time, only during the battle time)
Field Boss Point Contributions

Points are increased while attacking and receiving damages from Field Bosses
If the point is higher than 1, it will be counted as participated in the Field Boss Raid
On the Point UI, we can check

Party Goal
Party Point
Individual Goal
Individual Point

Points are updated every 10 seconds
Reset of Field Boss Points

Point will be reset, if:

Change Map, Change Channel

Individual Point: Reset
Party Point: Not Reset

Same Map, Same Channel, Change the Boss

Individual Point: Reset
Party Point: Not Reset

Leave Party / Join New Party

Individual Point: Reset
Party Point of the Party that character left: Not Reset

Points will not be reset, if:

Character is dead
Movement in the same Map
Disconnection but still stay in the party
Rewards

If the Field Boss is not killed within 15 minutes of Field Boss Battle Time: All participants will not received the rewards
If the Field Boss is killed within the Field Boss Battle Time

Party Point is higher or equals Party Goal: Party Reward will be granted

Reward will be sent in the Party Event Inventory

Individual Point is higher or equals Individual Goal: Individual Reward will be granted

Reward will be sent in the Personal Event Inventory
2. New Essence Rune
Add new Essence Rune – Resist Critical Rate
New Recipe

Master's Essence can be obtained by defeating Field Bosses
3. Add new Collections related to Field Bosses
4. Enhance the Inventory / Equipment display
Display the Chaos Upgrade level of accessories which have the Chaos Upgrade

Display the Chaos Upgrade of item which can be upgraded without using Chaos Converter

Carnelian
Minesta's Chaos Fighter / Sage / Guardian Belt
Arcana of Laws / Chaos / Guardian
Chaos Talisman

Display the Chaos Upgrade of item which can be upgraded by using Chaos Converter
Chaos Upgrade at +0 will not be displayed
5. Additions related to "Holia Kendrasil" Dungeon
Add the generation of Guild Treasure

Class: 7
BP Consumption: 3800
Golden Treasure Chest Point: 7

Add the quest for "Clear Holia Kendrasil" into Guild Mission Festival