March 26th 2020 Patch notes
■ Fixes
1.Fixed bug that Sword / Magic Damage Amplifier were not applied when character wearing Demonite items
■ Changes
1. Some dungeon drop adjustments
Forgotten Temple B3F

General

Decrease the rate of dropping items from all boxes
Increase the rate of dropping cores from all boxes

Relic Box

Decrease the rate of dropping Palladium items
Increase the rate of dropping Demonite items
Remove the rate of dropping Palladium sub-epic items
Add the rate of dropping Demonite sub-epic items

Legacy Box / Legendary Box / Legendary Cube

Remove the rate of dropping Palladium items
Remove the rate of dropping Accessories +7
Increase the rate of dropping Demonite items
Add the rate of dropping Vampiric Earring +8

Legendary Box / Legendary Cube

Add the rate of dropping Unbind Stone (Ultimate) Armor / Weapon

Mirage Island

General

Decrease the rate of dropping items from all boxes
Increase the rate of dropping cores from all boxes
Decrease the rate of dropping Palladium items from all boxes
Inccrease the rate of dropping Demonite items from all boxes

Relic Box

Remove the rate of dropping Palladium sub-epic items
Add the rate of dropping Demonite sub-epic items

Legendary Box / Legendary Cube

Add the rate of dropping Accessories

Vampiric Earring +8 / +9
Earring of Guard +8 / +9
Bracelet of Fighter / Sage +8
Defensive Earring +6 / +7
Amulet of Resist +5

Add the rate of dropping Unbind Stone (High – Ultimate) Armor / Weapon

Flame Nest / Ancient Tomb / Frozen Canyon

General

Decrease the rate of dropping items from all boxes
Increase the rate of dropping cores from all boxes
Decrease the rate of dropping Palladium items from all boxes

Relic Box

Remove the rate of dropping Palladium non-epic items
Add the rate of dropping Demonite non-epic items

Legacy Box / Legendary Box / Legendary Cube

Increase the rate of dropping Demonite items

Legacy Box

Remove the rate of dropping Demonite non-epic items
Add the rate of dropping Demonite top-epic items

Increase the rate of dropping Demonite items with 2 slots
Dragon's Treasure Chest in Labyrinth

Add the rate of dropping Unbind Stone (High – Ultimate) Armor / Weapon
Add the rate of dropping Minesta's Diamond Charm
Decrease the rate of dropping Upgrade Core (Ultimate)
2. Secret Shop NPC changes and additions
Add new items in the shop, all are trade-able

Troglo's Obsidian Fruit an be obtained from Challenge Mission Grade 4/5
Rune Box can generate 1 or 2 Essence Rune – Resist Critical Damage
■ Additions
1. New Essence Rune – Resist Critical Damage
2. Add the Option Scroll (Ultimate) to the list of Guild Treasure
Additional Items

Weapon Option Scroll (Ultimate) – Attack Rate (Account-binding)
Armor Option Scroll (Ultimate) – Defense Rate (Account-binding)
3. New Quests related to Dungeon
For completion of Labyrinth
For obtaining Entry Item of Ancient Tomb / Frozen Canyon
April 16th 2020 Patch notes
■ Fixes
1. Fixed bugs that character without nation could not enter Arcane Trace / Senillinea
2. Fixed bugs that Palladium items without epic are dropping from Relic Box of Frozen Canyon
3. Fixed bug that some data which are stored on PC keep resetting continuously
All graphic settings
All sound settings
Juke Box settings

Mute
Repeat / Random Playback

Login Screen settings
Launcher related settings
4. Fixed bugs related to the Event Inventory
Fixed bug that related with receiving items from Event Inventory
5. Fixed bug that some tooltip of Skills in Merit Mastery of Platinum Insignia are missing
6. Fixed bugs that certain quests in Abandoned City could not be start by clicking on quest object
■ Changes
1. When player right click on the Battle Style icon at top-left corner of the screen, game will show the Character Information UI
2. Change related to some Bulk-Purchase / Bulk-Receiving UI
Targets:

Event Inventory / Cash Inventory
Coupon Machine
Legend Arena Shop / Devil's Tower Shop

Changes:

Change the number by default to 1
When the UI is opened, the number is auto selected, ready to be editted
3. Some changes are implemented for searching feature of Manufacturing system
Able to type new search term, right after searching
When there are results after search, the list of output will be shown automatically so players can check the result
4. Extend the maximum zoom limit of some dungeon cameras
Increase the zoom limit of dungeons:

Flame Dimension
Ancient Tomb
Frozen Canyon

Adjust the view angle when entering the dungeon:
5. Changes related to the Frozen Canyon dungeon
Add a gate before the warp zone to final boss

After killed the Left Arm of the Devil boss, when player destroy the box, the gate will be opened

Change the position of the warp

Move it closer to the Left Arm of the Devil boss
6. Force Wing Training Time is reverted back to normal
Due to some problem, the Force Wing Training Time was set to 2 seconds, now it's reset back to normal
April 22nd 2020 Patch notes
■ Fixes
1. Fixed bugs that caused client disconnection when using certain skills
Blader – Lightning Slash
Force Blader – Assassination
2. Fixed bug that caused client disconnection due to requesting to invite players to party in certain situation
3. Fixed bug that caused abonormal calculation of Attack / Defense Ability
4. Fixed bug that related to showing the abnormal colour of bike when using the Ultra Dark Marine colour kit
■ Changes
1. Change the way of showing the characters in the Character Creation / Character Selection screen
When select the characters, characters will do a short animation (depends on battle style)
2. Improved convenience of platinum insignia
When a slot is opened successfully, a notification will be shown
A tooltip is showing the name of the current master is currently being opened
Add the summary for showing stats of the current category, showing in the bottom right of the screen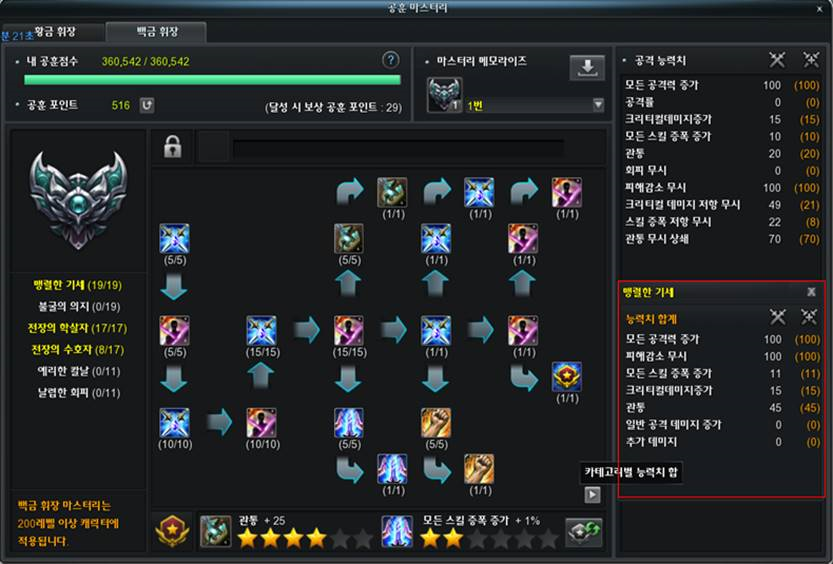 3. The Honour of Nevareth (Lv.1 – Lv. 6) is now able to sell to NPC.
■ Mission War
1. HP of Force Towers are significantly lowered
Excluding the Resurrection Force Tower